B2B PRICES AFTER REGISTRATION
Elegant porcelain tableware with gold rim or platinum rim.
Current trends suggest that porcelain is valued for everyday use as well as for choosing a dinner service for special occasions. We all want to eat in an aesthetically pleasing environment and serve dishes in modern and functional yet elegant dishes, without having to wait for a special occasion. The Collection M is an example of such porcelain series with color reduced elegance, which are on the tables of many customers and make everyday life unique.
We respect the time that we all have less and less. That is why we design our porcelain collections so that you can wash your porcelain in dishwashers without fear and thus dedicate valuable moments to being together with your loved ones. In line with the changes that are constantly taking place in our coexistence and our culinary habits, we are introducing new porcelain parts and porcelain variations into our offer.
Collection M ... - Individuality and craftsmanship down to the last detail.
These classic and elegant porcelain series in white or ecru held with handmade gold edge or platinum edge are made only to your order. Their variety of parts meets the needs of the sophisticated table culture and with every great event from wedding to garden party, festive brunch or corporate event the exquisite taste of the host effortlessly expresses.
The peculiarities of the porcelain series:
Clear and continuous color - white or ecru
Henkel & Pedestal of cups - handmade s. Photo below
Large parts such as soup vase, teapot - manual casting process
Distinctive variety of parts
Dishwasher safe despite gold edge or platinum edge
The owners of the manufactories give you a look behind the scenes ...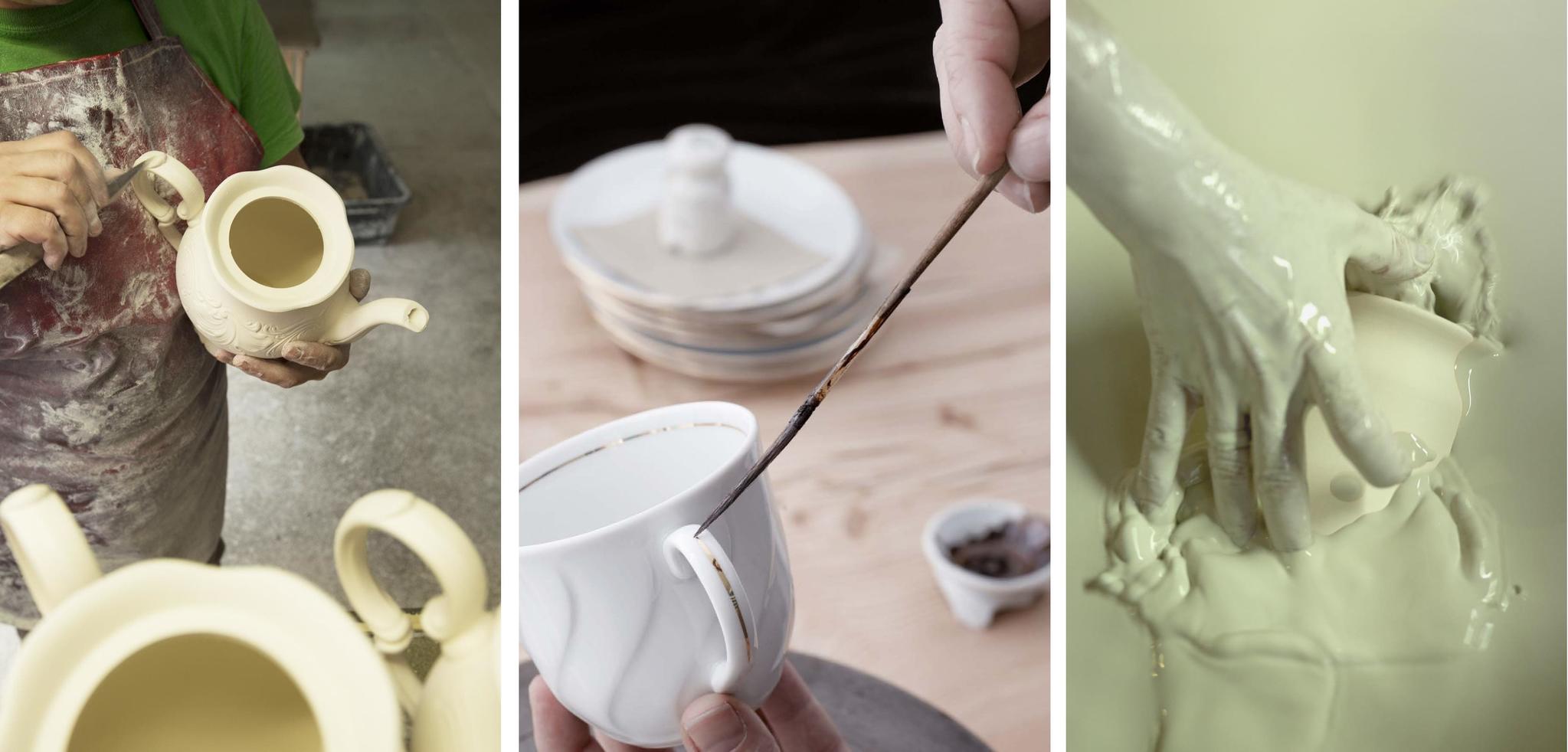 Moony porcelain with gold rim or platinum rim.
The other porcelain lines from Marie - Chantal to Marie - Christine are also in the category of sophisticated tableware and thanks to their fabulous variety of parts they satisfy the needs of the most demanding customers. As a basic series / pattern series (also purchasable) in continuous white, the eight porcelain lines are available for your selection. The color variants shown here with gold or platinum edge form the luxury class of the sampling and can be purchased on personal order.
Cristoff porcelain has a longstanding production tradition in the production of porcelain. The company was founded in 1831 by Carl Krister, but the history of the production facilities is slightly longer and dates back to 1820. Particularly noteworthy is the proportion of manual work that is used in the case of Goldrand, Henkel and Sockel the cups knitting.
The variety of porcelain series pleases every professional among you because the selection of basic parts and accessories is truly enormous. The range of cups ranges from espresso cups, breakfast cups, coffee cups, teacups to cappuccino cups, soup cups and pies, even the choice of dishes leaves nothing to be desired - from bread plates, cake plates, dinner plates, dinner plates to large serving plates. The crowning glory is the matching candlesticks, spice stands, eggcups, butter dishes, which of course have been provided in the elegant porcelain lines. The selection of porcelain tins can also be seen: Coffee teapots are available in 4 different sizes, while teapots are available in 3 different sizes. For a lot of romance on the table provide matching warmer porcelain.
Discover the magic of the elegant porcelain series from the Collection M ... - unique and elegant.
A new look behind the scenes ....

We will gladly inform you about the complete scope of the elegant porcelain in a personal consultation appointment.
You can reach us personally under the following telephone number +49 89 3188366.